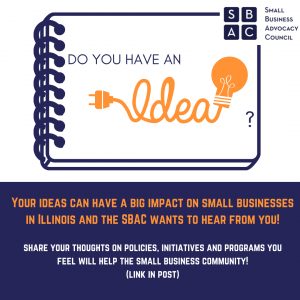 The resurgence of Illinois' economy will strongly correlate to the recovery of the small business community.
Small business owners and advocates know what the small business community needs at this crucial time. Legislators are asking for input and recommendations. This is precisely the time for small business advocates to collaborate and put together a strong policy agenda.  Read more from Elliot's Daily Herald article HERE.
Do you have an idea? Let us know your ideas on policies, initiatives, and programs that may help the small business community by filling out this form!
Saul Ewing Arnstein & Lehr LLP is a full-service law firm that offers clients the national reach and sophisticated experience of a large firm and the local connections and value of a boutique firm. This combination of reach and local autonomy supports our clients with the clout of a mega-firm and the service hallmarks of…
SBAC Empower rebuilds economically challenged communities by supporting the establishment of new businesses that create employment opportunities, destination branding, and goodwill across Chicago's business community.
Signature Bank was founded in 2006 for one reason: We knew there was a better way to help mid-sized businesses grow, thrive, and succeed-on both a business level and a personal level. As a mid-sized business owner, you don't have time to worry about every financial detail to keep your business running smoothly. That's what…