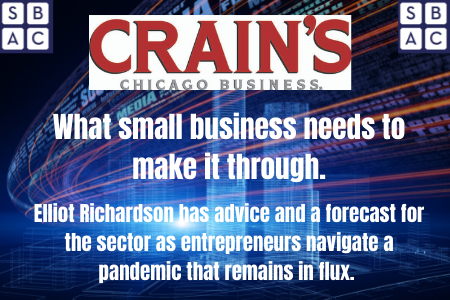 An advocate has advice and a forecast for the sector as entrepreneurs navigate a pandemic that remains in flux.
Read Elliot's entire interview on Crain's Chicago Business by clicking HERE.
Located in Chicagoland and popping 15,000 pounds of handmade, ultra-premium popcorn every day, Double Good is a community of like-minded dreamers, doers, believers, and thinkers committed to helping kids do what they love. Double Good is an e-commerce company that produces and sells small-batch popcorn, popped fresh every day in a facility just outside the…
Fifth Third Bancorp is a diversified financial services company headquartered in Cincinnati, Ohio, and the indirect parent company of Fifth Third Bank, National Association, a federally chartered institution. As of Mar. 31, 2021, Fifth Third had $207 billion in assets and operated 1,098 full-service banking centers and 2,383 ATMs with Fifth Third branding in Ohio,…
Founded in 1983, Freeborn is a leading midsize law firm with offices in Chicago, Illinois; New York, New York; Richmond, Virginia; Springfield, Illinois; and Tampa, Florida. Our deep bench of more than 90 experienced trial lawyers handle all areas of complex disputes and litigation, nationally and internationally.