IACCE Chamber Call with Senate President Harmon
The SBAC and Illinois Association of Chamber of Commerce Executives hosted Senate President Harmon, Senator Castro and Senator Sims for a broad discussion about how the small business community and Illinois Senate can work together. There has never been a more important time to advocate for the small business community.
Watch Below (click on the "Watch on YouTube to jump to specific questions):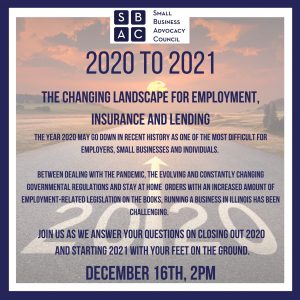 While mental health issues in the workplace have been a concern for some time, this past year, COVID-19 has shown the challenges employees are facing have spiked dramatically.  Hear from Jason Tremblay on how this will impact both employers and their employees in the video. Stephen Ball from Fifth Third discusses automatic forgiveness for PPP…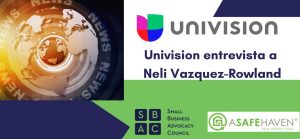 Muchas gracias a univision para su reportaje sobre nuestra campaña conjunta con a Safe Haven Foundation para mantener a las pequenas empresas aflote y para prestar asistencia a las personas mas necesitadas durante este periodo tan dificil.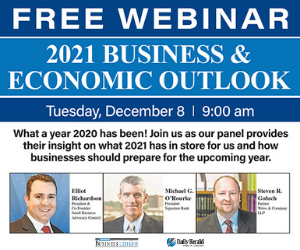 We were grateful for the opportunity to participate in the Daily Herald 2021 Economic Outlook Webinar. Elliot talked about state legislation that can help individuals, families, small businesses and local communities recover from the pandemic. To watch the webinar, visit our "In The News" section or simply CLICK HERE.