Back to Business Grant Program
AUG 13th - The Illinois Department of Commerce and Economic Opportunity launched the Back to Business grant program for struggling small businesses on Wednesday.  On August 12th, the SBAC participated in a joint Illinois Senate hearing to learn more about the program. We explained how important it is for the program to be transparent and promptly provide funds to as many small businesses as possible. We appreciated the opportunity to engage with Senators and DCEO on this crucial grant program.
Please visit DCEO's website to learn more about the program. We are glad to answer questions as well.  https://www2.illinois.gov/dceo/SmallBizAssistance/Pages/B2B.aspx
The SBAC will be closely watching how the program is implemented.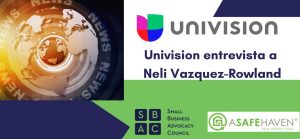 Muchas gracias a univision para su reportaje sobre nuestra campaña conjunta con a Safe Haven Foundation para mantener a las pequenas empresas aflote y para prestar asistencia a las personas mas necesitadas durante este periodo tan dificil.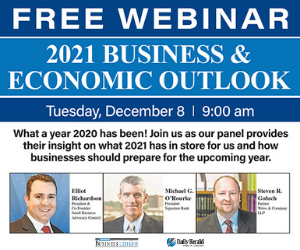 We were grateful for the opportunity to participate in the Daily Herald 2021 Economic Outlook Webinar. Elliot talked about state legislation that can help individuals, families, small businesses and local communities recover from the pandemic. To watch the webinar, visit our "In The News" section or simply CLICK HERE.
Elliot Richardson and Neli Vasquez-Rowland on WCPT with Joan Esposito On December 3rd, Elliot Richardson, President and Co-Founder of SBAC and Neli Vasquez-Rowland, Founder and President of A Safe Haven were hosted on WCPT Chicago with Joan Esposito discussing the situation of homelessness and small businesses in Chicago. With the pandemic affecting small businesses on…