Occupational Licensing Reform
Occupational licenses are often necessary to protect the safety, health, and welfare of the public. However, when these licenses are revisited by legislators, it is important they have accurate and unbiased information before determining whether and how to maintain such a license.
Regulatory Sunset Review - HB5576
This legislation amends the Regulatory Sunset Act to require the existing sunset report process collects and provides comprehensive and specific information about the need for licensure, the licensing process, and the equity concerns arising from personal qualifications, such as the cost of training and continuing education and whether such requirements are suitably addressing public safety. The bill provides guidance for the report's recommendations of modifications to licensing rules that will lower barriers for applicants but still address genuine public safety concerns, including a list of regulatory tools other than licensure, like registration or certification, disclosures, or insurance requirements. The bill does not usurp legislators' ability to make the final determination regarding a license.
License Information Task Force - HB5575
This legislation creates a task force that includes representatives from low- and middle-income licensed occupations along with a mix of academics, advocates, administrators, and legislators. The goal of the task force is to collect, centralize, and analyze data from IDFPR about low- and middle-income licensed occupations and evaluate licenses using an equity and access lens. The legislation provides that a final report will be published and provided to the General Assembly with recommendations about increasing equity and economic opportunity. With this comprehensive information, legislators can target reform efforts to preserve public safety while removing unnecessary requirements.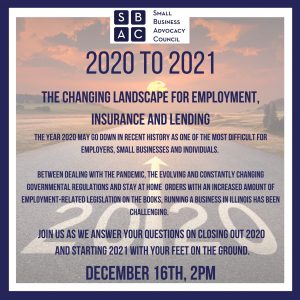 While mental health issues in the workplace have been a concern for some time, this past year, COVID-19 has shown the challenges employees are facing have spiked dramatically.  Hear from Jason Tremblay on how this will impact both employers and their employees in the video. Stephen Ball from Fifth Third discusses automatic forgiveness for PPP…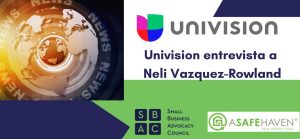 Muchas gracias a univision para su reportaje sobre nuestra campaña conjunta con a Safe Haven Foundation para mantener a las pequenas empresas aflote y para prestar asistencia a las personas mas necesitadas durante este periodo tan dificil.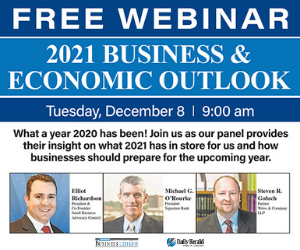 We were grateful for the opportunity to participate in the Daily Herald 2021 Economic Outlook Webinar. Elliot talked about state legislation that can help individuals, families, small businesses and local communities recover from the pandemic. To watch the webinar, visit our "In The News" section or simply CLICK HERE.