A year and a half removed from the pandemic, small businesses across Illinois still are facing hardship on a myriad of fronts. From learning to operate in the fluid post-pandemic environment of evolving health mandates, and learning how to best serve an undiscovered niche of customers, one thing is abundantly clear - small businesses of all kinds are struggling to fill their staffs of employees.
To address the common problems many Illinois small business owners face, the SBAC and its group of stakeholders have crafted the SBAC Small Business Package. Included in the package is the Recovery Initiative to Support Employment (RISE) grant program.
Small businesses in the technology, healthcare, and manufacturing spaces, as well as other breakout small businesses may be in the position to train and hire pandemic unemployed individuals. The proposed RISE grant program seeks to support the small businesses who attempt to locate, train, and develop employees to work in their growing small business.
The grant program will be structured in the following manner:
The grant program is for small businesses with 50 or less employees
The grants are for a total of $5000
The grants are for every net new job a business creates
The total amount of funding for the program is to be determined in coordination with legislators
The RISE grant program is included in the SBAC Small Business Package. This package is being worked through both chambers of the Illinois General Assembly for either the upcoming veto session or the first session of 2022.
Stay up to date with our advocacy initiatives like this by following us on social media and becoming a member of our organization.
SBAC Action Call: Time For Policymakers To Deliver a Small Business Package Many small and local businesses closed during the pandemic while others continue fighting to keep their doors open. The small business community has galvanized around a package of policy proposals. These policies will provide crucial support to small businesses and local communities. They…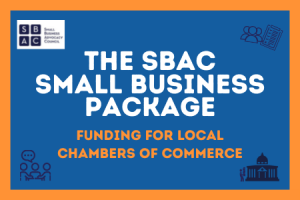 Funding For Local Chambers of Commerce Local chambers of commerce which support small businesses and local communities throughout Illinois have been devastated by the pandemic. Lost memberships and the inability to host fundraisers have deeply impacted chambers of commerce. With the Delta variant causing further disruptions, many chambers continue to struggle, and some may not…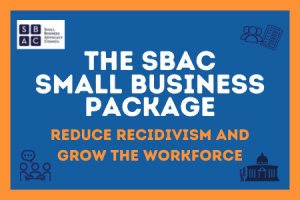 Reduce Recidivism and Grow the Workforce As a premier advocacy organization, the SBAC maintains a continuous focus on problems, red flags, and concerns that arise in all corners of the public arena. Often, the issues we keen in on are causing a negative cultural, social, or economic impact. One issue that has impacted those three…