It's tough to run a small business. We know that funding is always top of mind at all times.
In an effort to keep our small business owners informed of possible grants as they become available, we will list some as they become available and the criteria for applying.  We encourage you to take advantage of those that apply to your business. We also encourage you to continue to look for these opportunities on your own as this list is not exhaustive.
The Chicago Neighborhood Opportunity Fund

In 2016, the City of Chicago revised the Zoning Code to leverage funds generated by new development in and around the Loop to catalyze investment in Chicago's West, Southwest and South Sides. The Neighborhood Opportunity Fund uses these funds to support commercial corridors in Chicago's underserved neighborhoods. Business and property owners may apply for grant funding to pay for the construction or rehabilitation of real estate and projects that support new or expanding businesses or cultural assets.
Learn more about the Neighborhood Opportunity Fund and Application HERE.
The Back to Business (B2B) Grant

The Back to Business (B2B) grant program provides recovery grants for businesses in the hardest-hit industries.  Through the state's B2B and Business Interruption Grant (BIG) Programs, DCEO has provided more than $535 million to more than 15,000 businesses since the start of the pandemic.
Eligible restaurants, hotels and creative arts businesses are eligible to apply for $175 million in available grant funding as part of our efforts to support ongoing recovery in hard-hit industries. All applicants will receive a grant as long as they meet eligibility requirements, submit proper documentation and attestations required by the program.
The program design for B2B Restaurants, B2B Hotels, and B2B Arts, respectively, are based on legislation which established the Restaurant Employment and Stabilization Grant Program (20 ILCS 605/605-1100), Hotel Jobs Recovery Grant Program (20 ILCS 605/605-1095), and the Illinois Creative Recovery Grant program (30 ILCS 709/40).
Applications will be open between April 5 and May 10, 2023. DCEO encourages applicants to familiarize themselves with program eligibility requirements and reach out to local community navigators with any questions.
CHICAGO RECOVERY GRANT APPLICATION for COMMUNITY DEVELOPMENT 
The Small Business Improvement Fund (SBIF) provides grant funding for permanent building improvements and repairs across the city.
Offered by the Department of Planning and Development (DPD) to tenants and owners of industrial and commercial properties, SBIF grants are funded by Tax Increment Financing (TIF) revenues in designated TIF districts citywide.
Program participants can receive grants to cover between 30 percent and 90 percent of the cost of remodeling work, with a maximum grant of $150,000 for commercial properties and $250,000 for industrial properties. The grant, which is administered by SomerCor on the City's behalf, does not have to be repaid.
Learn more about Chicago SBIF and check for roll out dates HERE.
CLOSED GRANTS:

LegalZoom, the NBA, WNBA, and NBA G League are committed to encouraging entrepreneurship by supporting and investing in black small business owners. Tipping off at the start of Black History Month, the third of six grant cycles will open in this multi–year program.  The deadline to complete the application was February 17, 2023.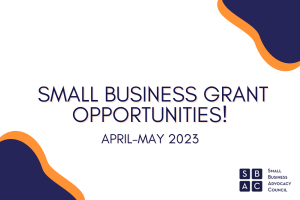 The Back to Business (B2B) Grant: The Small Business Advocacy Council fights for legislation that will support the small business community and neighborhood business districts.  We also understand the importance of providing information about programs that can benefit entrepreneurs and small businesses.  Illinois policymakers have launched another round of Back to Business grants (B2B) that…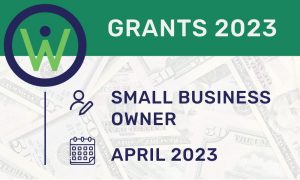 It's tough to run a small business. We know that funding is always top of mind at all times. In an effort to keep our small business owners informed of possible grants as they become available, we will list some as they become available and the criteria for applying.  We encourage you to take advantage…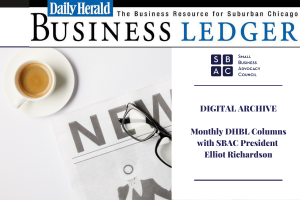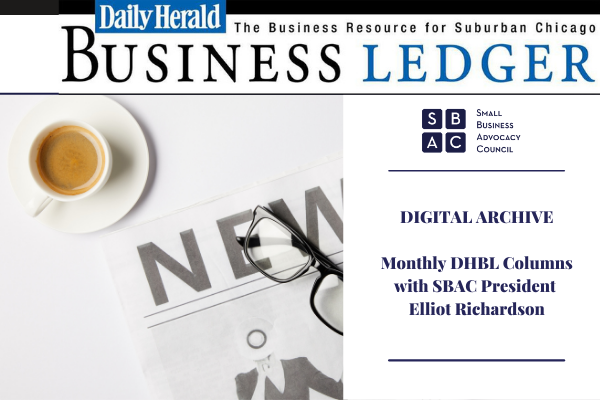 Check out all of SBAC President Elliot Richardson's Daily Herald Business Ledger articles below 2023 2022 2021 2020 2023 March 5, 2023 Transparency will empower the small business community February 5, 2023 Making economic incentives available to small businesses January 8, 2023 Small business advocacy in 2023: Hitting the ground running 2022 December 11, 2022…