West Side First - Business Start-Up Training for Early-stage Businesses in Illinois:
Training programs play a crucial role in supporting aspiring entrepreneurs on their path to success. By providing foundational knowledge, helping navigate legal requirements, facilitating networking opportunities, and enhancing entrepreneurial skills, these programs empower individuals to confidently launch their businesses and establish a legally structured foundation. West Side Forward is launching a Business Start-Up Entrepreneurial training program to support individuals in launching business operations and becoming licensed and legally structured. Business Training cohorts are 10-week immersive business training programs comprised of specialized workshops, training, and resources facilitated in conjunction with the Neighborhood Business Center at West Side Forward.
Learn more about the program here.
Neighborhood Access Program:
Cultural vitality is what makes our neighborhoods a great place to live, work, and play. It provides a space for artists and performers to showcase their talents, for local businesses to thrive, and for residents to connect and celebrate the diversity of our city. The Department of Cultural Affairs and Special Events has launched a program to support the cultural vitality of every Chicago neighborhood through grant programs and partnerships. This program will offer direct grants for all types of place-based arts and cultural activities taking place in Chicago between October 1, 2023, and December 31, 2024.
Learn more about the program here.
We know time is of the essence for small business owners and entrepreneurs. The SBAC is here to help! We will continue to provide information about programs that support small businesses on our blog. Check back next week for more information!
Advantage Illinois Program:
Do you know DCEO has a program that can help eligible small businesses secure capital to support their operations and grow their businesses? The Advantage Illinois Program provides funding through financial institutions for small business loans.
Learn more about the program here.
The WorkShare IL Program:
Sometimes small businesses experience a reduction in available work. However, these businesses want to retain their valued employees, and maintain their trained workforce, because they know the rebound is around the corner. There is a program that has been launched by the Illinois Department of Employment Security called Workshare Il, which is a voluntary program that provides employers facing cash flow challenges with an alternative to layoffs. The program allows employers to reduce an employee's hours and for those employees to collect unemployment compensation benefits to supplement their lost income.
Learn more about the program here.
The Small Business Advocacy Council is focused on advocating and moving legislation that will support the small business community. We also understand the importance of providing information about programs that can benefit entrepreneurs and small businesses. Check our blog often for updates on programs that support the small business community.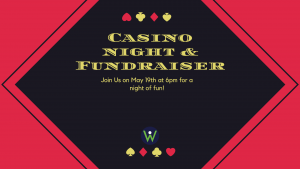 DONATE What an Incredible Night! Friday, May 19th, 2023 marks SBAC Empower's First EVER fundraiser. And boy was it a resounding success! We had an incredible turnout, and we are appreciative of all who came and joined us that evening! The staff here at Empower (as well as our sister organization, the SBAC) all were…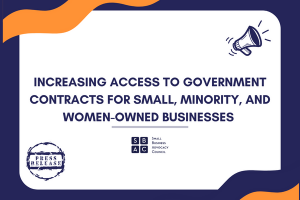 Read S.B. 2192 SB 2192 FACT SHEET Increasing Access to Government Contracts for Small, Minority, and Women-Owned Businesses SB 2192 View the Press Release on SB 2192 The SBAC is excited to announce legislation that will increase access to government contracts for small, minority, and women-owned businesses has passed both the Illinois House and Senate!…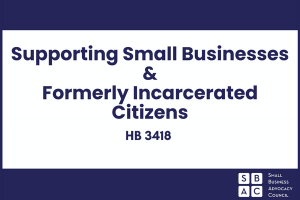 HB 3418 FACT SHEET HB 3418 Hoja de Hechos Read H.B. 3418 Labor shortage requires unconventional hiring… Expand JPMorgan says labor shortage requires unconventional hiring, including people with criminal records PUBLISHED THU, MAR 10 20224:53 PM EST How hiring individuals with criminal records can benefit workforce… Expand How hiring individuals with criminal records can benefit…