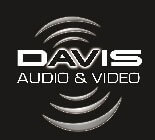 Davis Audio specializes in residential and commercial audio, video, and technology. This includes home automation, control systems, audio systems, video systems low voltage wiring, and more.
At Davis Audio & Video, our philosophy is if you can't figure out how to use your system, whether it's your home theater, home automation, or lighting control, we did not do our job effectively. We design all of our systems to be as functionally efficient as possible. We do the thinking for you. Remotes are one-button operations so you aren't juggling different remotes back and forth trying to get a system up and running. We do the configuring on the front end to make your day-to-day use of your new custom system as simple as possible.
Please translate this page to the language of your choice.