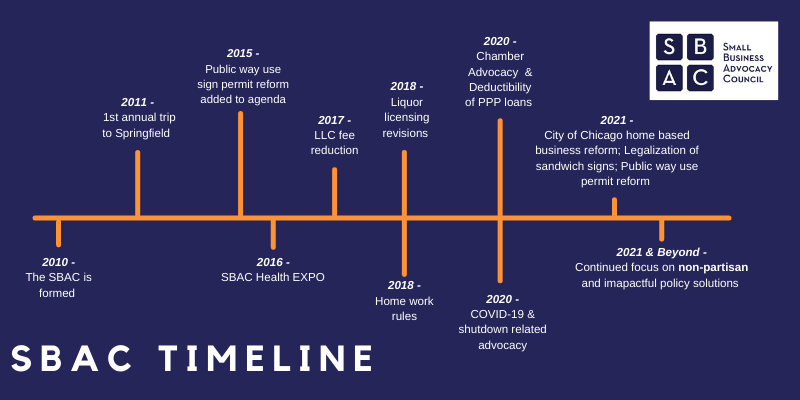 The SBAC is a non-partisan, member driven organization that promotes the success of small business through political advocacy, support services and educational programs.
The success of small business is a critical component of the nation's economic well-being. 

In order to ensure a fair and level playing field, small business must have a powerful and united advocacy voice at the local, state and federal level.

Through cooperative networking, idea sharing and education, small business can flourish.
In 2010, Elliot Richardson, the owner of a small Chicago-based law firm, was frustrated with the uphill battle facing many small business owners in the state of Illinois. He felt this community had no voice and no representation in Springfield. Richardson wanted to be part of the solution and launched The Small Business Advocacy Council to provide small businesses in Illinois every opportunity to succeed.
What has become clear over the years is that the "secret sauce" of the SBAC is the importance of being a non-partisan organization. Taking the preconceived and fluid beliefs that are associated with political parties out of the equation allows for the most impactful policy solutions.
2017 provides a prime example of SBAC advocacy in action where we fought to reduce the price of registering a limited liability corporation (LLC). The bill, S.B 867 was supported by legislators on both sides of the aisle as well as over 50 trade and business organizations. It lowered LLC fees from $500 to $150, making small entrepreneurs more likely to launch new businesses, creating new growth opportunities for the state. 
Like every institution, organization, and individual the COVID-19 pandemic has changed how the SBAC operates. The pandemic woke everyone up to the importance of small businesses in our economy. Our current advocacy agenda is robust and focuses on ways to make operating a business easier for the everyday entrepreneur and improving the overall small business climate.
The SBAC is a full-service advocacy organization and empowers our members in four distinct ways. First, we offer members a non-partisan and effective voice on their behalf in Washington, DC, Springfield and Chicago. Second, the SBAC connects entrepreneurs with other members in order to foster relationships within the community and generate mutually beneficial strategic partnerships. Third, the organization offers educational programming to promote best business practices and encourage growth. Lastly, the SBAC provides exclusive benefits to its members, including an array of discounts and rebates to help lower the costs of operating a business.
Please translate this page to the language of your choice.