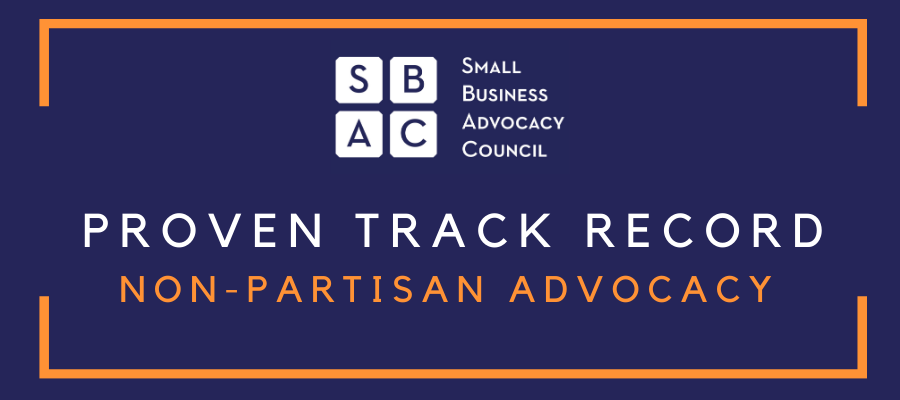 It's no secret that small businesses unite the community. And the SBAC's non-partisan advocacy work continues to shape local, state and federal legislation for small businesses. We are proud to highlight a few of our successful advocacy efforts and proven track record of providing non-partisan solutions to help the small business community.
To read more about our current initiatives and how you can join us, click here.
The Small Business Advocacy Council and various city chambers supported ordinance 02018-7001. The ordinance made conforming changes to the previously enacted state legislation, SB2436, which grants localities the authority to issue exemptions to the 1934 Illinois Liquor Control Law prohibiting restaurants located within a 100 feet of a church, school, hospital and certain other building from serving alcohol to their guests. The ordinance grants authority and sets forth a process for the Local Liquor Control Commissioner to issue a liquor license to the applicant restaurant.  While also leaving an outlet for aldermanic objections. The adoption of the ordinance has made it easier for restaurants and bars to make a profit in areas previously prohibited from serving alcohol.
The SBAC fought vehemently to pass legislation in 2017 that reduced LLC (limited liability corporations) fees in Illinois, which were among the highest in the nation. Prior to the passing of the bill, SB 867, small business owners, who make up 98% of all businesses in the state of Illinois, were being disincentivized from forming LLCs due to the excessive cost to form as a corporation or to file in other states. By lowering LLC fees from $500 to $150, small entrepreneurs are more likely to launch new businesses, creating new growth opportunities for the state. SB 867 was supported by legislators on both sides of the aisle as well as over 50 trade and business organizations.
While the complex situation on the tax deductibility of PPP loans is where most small business owners focused their legislative concerns, we understood the unique role 501(c)6 organizations - local Chambers of Commerce - play in the advancement of small business oriented interests. Chambers are often the first stop business owners and entrepreneurs make when looking for help. When the pandemic hit and 501(c)6 organizations were excluded from all legislative relief efforts, we immediately galvanized support. In our letter to the IL congressional delegation, we assembled 58 chambers of commerce, from all across the state, behind one unified message. This is a true testament in our ability to tailor advocacy initiatives in the most non-partisan and effective manner.
TAX DEDUCTIBILITY OF PPP LOANS
When the CARES Act was originally passed in March of 2020, Congress intended to make PPP loans deductible. However, in April, the IRS published Notice 2020-32 saying that under section 265 of the Internal Revenue Code business expenses paid for from a class of tax-exempt income – a forgiven PPP loan – are taxable. This would have been absolutely devastating for small businesses that were already struggling to stay afloat. Urgently, with the aid of our members and Chamber partners, we used our voice in the nationwide effort demanding a legislative solution. That solution was reached with Section 276 of The Consolidated Appropriations Act 2021. This amended the original CARES Act to clarify that PPP loans are in fact tax-deductible – a major victory for the grassroots effort to save small businesses.
Ordinance SO2021-332 expands the limit on home based business operational space to 300 square feet or to 25 percent of the total floor area in any single-family residence, and more than 15 percent of the floor area of a unit in a building containing multiple dwellings. This allows business owners to unleash their productivity and work from home during the pandemic. The ordinance represents a successful collaboration of partnerships between Elliot Richardson, Co-Founder and President of the Small Business Advocacy Council;  Beth Kregor, the Director of the IJ Clinic on Entrepreneurship at the University of Chicago Law School; and the Departments of Business Affairs and Consumer Protection, Buildings, and Planning and Development.
Please translate this page to the language of your choice.
ADVOCACY The SBAC is fighting to help the small business community recover from the pandemic and thrive. Learn about our legislative agenda here: Please translate this page to the language of your choice. Supporters Fifth Third Bank Saul Ewing Arnstein Lehr Inland Bank Ntiva Daily Herald Tandem HR Interprenet Signature Bank Lexitas Empower Korey…