Urge Illinois Lawmakers to Allocate Additional Funds to the Back to Business Grant Program
Small businesses and local communities have been devastated by the pandemic. Many small businesses are still struggling, and the Delta variant threatens to further hinder their recovery. No more small businesses should fail because of this pandemic.
Illinois received over $8.127 billion from the federal government as part of the American Rescue Plan Act. However, policymakers have only allocated $250 million for struggling small businesses through the Back to Business grant program. These funds will likely run out, and as a result, some struggling businesses will receive grants and others will not. Illinois is still holding on to over $5 billion of federal funds. There is no reason that our state should pick winners and losers when there is funding to support struggling businesses that qualify for a grant.
This action call urges Illinois policymakers to promptly allocate additional funds to the Back to Business grant program before they run out. Please use this to reach out to your state legislators and pass it on to your networks. Together, we can let politicians know how important it is to immediately help struggling small businesses in Illinois.
Please take a moment and urge your State Lawmakers to support allocating more funds to the Back to Business grant program by filling out the form below. Together we can make our voices heard!

SUPPORT NEIGHBORHOOD BUSINESS DISTRICTS BY REDUCING COMMERCIAL VACANCIES Struggling neighborhood business districts are often plagued by vacant properties. These commercial vacancies impact local economies, foster criminal activity and devastate communities. Local governments can reduce the property taxes owed by commercial property owners when their properties, or a portion of those properties, are vacant. While most…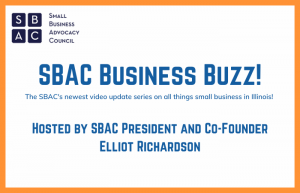 SBAC Business Buzz – January 2022 Welcome to the inaugural episode of our new video series, SBAC Business Buzz, featuring Elliot Richardson's update on SBAC initiatives impacting the Illinois small business community. Today's 3-minute recap focuses on Back to Business Grants, Workforce, Occupational SPONSORS Fifth Third Bank Saul Ewing Arnstein Lehr Inland Bank Ntiva Daily…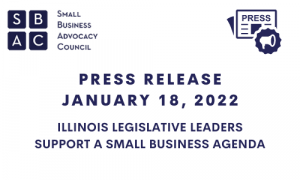 JANUARY 18, 2022 FOR IMMEDIATE RELEASE Media Contact: Patti Zikmund // 773-459-3301 // patti@sbacil.org The Small Business Advocacy Council (SBAC), and a coalition of 50 state-wide business organizations, is working with Illinois political leadership on multiple pieces of legislation supporting small business for the upcoming General Assembly. The legislation will foster the recovery of small businesses,…