Elliot Richardson and Neli Vasquez-Rowland on WCPT with Joan Esposito
On December 3rd, Elliot Richardson, President and Co-Founder of SBAC and Neli Vasquez-Rowland, Founder and President of A Safe Haven were hosted on WCPT Chicago with Joan Esposito discussing the situation of homelessness and small businesses in Chicago.
With the pandemic affecting small businesses on a massive scale, many people have lost their jobs, or closed their businesses and now face the very harsh reality of homelessness.
A Safe Haven and SBAC have partnered up to tackle this situation head on with the fundraising challenge "Rebuilding Lives and Businesses".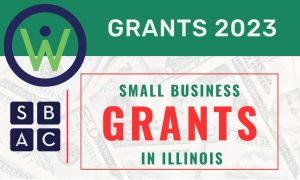 It's tough to run a small business. We know that funding is always top of mind at all times. In an effort to keep our small business owners informed of possible grants as they become available, we will list some as they become available and the criteria for applying.  We encourage you to take advantage…