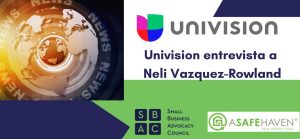 Muchas gracias a univision para su reportaje sobre nuestra campaña conjunta con a Safe Haven Foundation para mantener a las pequenas empresas aflote y para prestar asistencia a las personas mas necesitadas durante este periodo tan dificil.
Para ver la entrevista, haga clic aquí.
Please translate this page to the language of your choice.