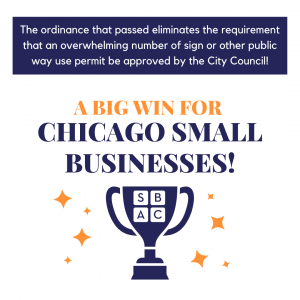 SBAC Applauds Mayor Lightfoot and City Council For Providing Small Businesses a Big Win
For Immediate Release
July 21, 2021
SBAC Applauds Mayor Lightfoot and the Chicago City Council for Providing Small Businesses a Big Win
Statement by Small Business Advocacy Council (SBAC) President Elliot
Richardson:
The SBAC and a robust coalition of business and community organizations have been fighting to reduce the time it takes for small businesses to obtain a sign or other public way use permit. We have been calling on policymakers to cut red tape so small businesses can display a sign more quickly and let potential customers know they are open for business. Mayor Lightfoot and the Chicago City Council have answered that call and come through in a big way! Today an ordinance was passed that eliminates the need for City Council approval on almost all sign and other public way use permits.
The ordinance that passed eliminates the requirement that an overwhelming number of sign or other public way use permits be approved by the City Council. Indeed, only where there is a disagreement between the Department of Business Affairs and Consumer Protection and an Alderman/Alderwoman regarding a permit application will an ordinance need to be passed before its issuance. However, in almost all cases, the approval of the City Council will no longer be necessary, shaving up to 60 days off the process.
Small businesses and local communities face difficult challenges as they attempt to recover from the pandemic. The City Council and Mayor Lightfoot just eliminated one of them. We thank the City Council for making this important reform because it will help small businesses succeed and local communities recover from the pandemic.
###
The digital investment bank that utilizes reg-compliant marketplace technology to connect emerging entrepreneurs with earnest investors. At Regiment, our focus is two-fold… Raising capital from investors seeking non-traditional investment products. Funding early-stage companies and companies seeking capital for growth. but it's our edge that sets us apart. Financial and technological expertise gives us an edge…
Count on us for the highest quality work uniforms and floor mats that elevate your brand, make your employees look great, maintains compliance, and ensures safety.
Saul Ewing Arnstein & Lehr LLP is a full-service law firm that offers clients the national reach and sophisticated experience of a large firm and the local connections and value of a boutique firm. This combination of reach and local autonomy supports our clients with the clout of a mega-firm and the service hallmarks of…