"The activation of underutilized West and South side properties is a key strategy to revitalize neighborhood commercial corridors with active, people-oriented activities," Commissioner Cox said.
The City of Chicago announced on Thursday, the creation of two new public plazas located in West Garfield Park and Chatham. These projects are a part of the Department of Planning and Development's POP program, using vacant lots and spaces to provide public ways for residents in communities. The funding for these projects come from the Chicago Recovery Plan.
These spaces will provide vibrant spaces for business owners and the general public to interact, aiding in the revitalization of corridors that have been the hardest hit from the Covid-19 pandemic. Learn more about these developments by clicking on the link below.
City of Chicago :: POP! plazas announced for West Garfield Park, Chatham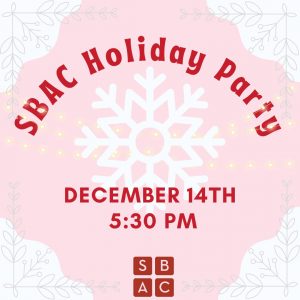 The Small Business Advocacy Council invites you to celebrate the holidays at the George Street Pub on December 14th. Join us for this wonderful opportunity to connect with small business owners, professionals, small business advocates and our SBAC Board of Advisors. Registration is free for SBAC Business Supporters or $10pp for guests.  Event includes light appetizers and…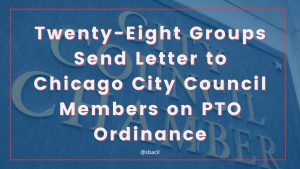 City Council has passed a PTO ordinance that provides greatly expanded paid and sick leave for Chicago employees. The ordinance, however, subjects small businesses to crushing penalties and lawsuits. Many small businesses will also be unable to comply with the mandates of the ordinance by the end of the year. This is an open letter…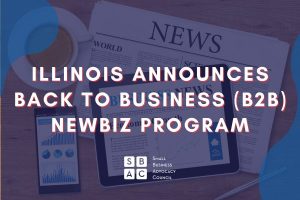 Illinois Launches Back to Business (B2B) NewBiz Program The application window for the B2B NewBiz program opens on November 30, 2023, and will remain open until January 11, 2024. The Small Business Advocacy Council has advocated for a program that provides grant funding to businesses that launched in 2020 (prior to the pandemic) and in…