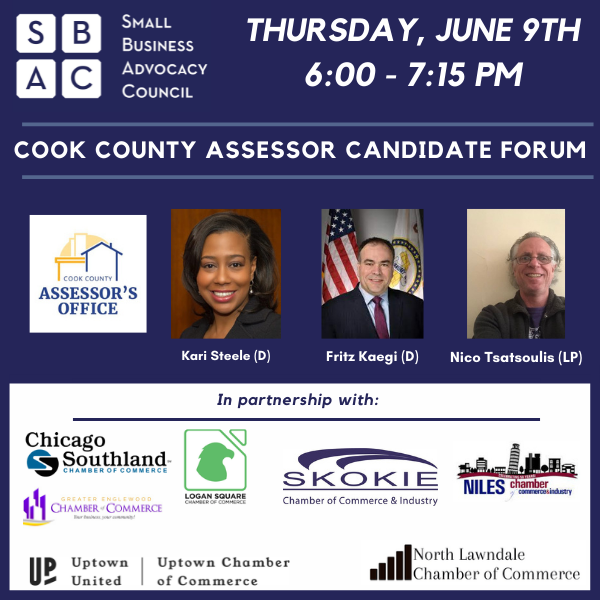 Join the SBAC and our partners on Thursday, June 9th for our Cook County Assessor Candidate Forum!
We will be joined by Assessor Fritz Kaegi, Commissioner Kari Steele and Nico Tsatsoulis and explore their views on stability, fairness, equity and transparency as it pertains to the Cook County property tax system. We will also discuss the candidates' views on reforms needed to improve the property tax system.
Property taxes are a crucial issue for small businesses, property owners and advocates for commercial corridors throughout Cook County. We hope you can join us for this important zoom forum.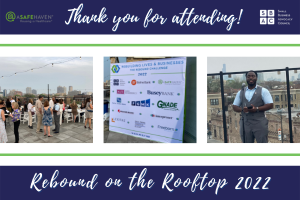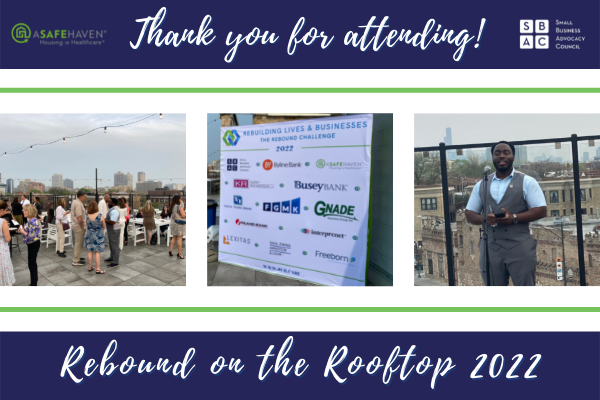 THANK YOU for attending our Rebound on the Rooftop on May 11, 2022!! It was such a beautiful evening, the weather was PERFECT, and we are so glad we got to see so many of you in person again! If you weren't able to make it, we missed you! And we hope we'll see you…
Join the SBAC and our partners on Thursday, June 9th for our Cook County Assessor Candidate Forum! We will be joined by Assessor Fritz Kaegi, Commissioner Kari Steele and Nico Tsatsoulis and explore their views on stability, fairness, equity and transparency as it pertains to the Cook County property tax system. We will also discuss…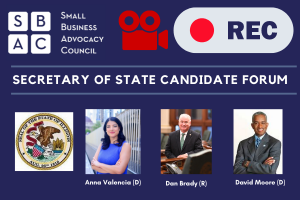 Thank you State Representative Brady, City Clerk Anna Valencia, and Alderman David Moore for joining us last week at our Illinois Secretary of State Candidate's Forum! The Secretary of State's office provides important services to small businesses and can help improve the confidence the small business community has in our government. Hear opening statements from…