This is a crucial time for lawmakers to support policies that will revitalize neighborhood business districts and support Chicago small businesses.  Therefore, we have formed a neighborhood revitalization caucus where politicians from various facets of government can come together, collaborate with stakeholders, and work to revitalize local economies.
We are very thankful to the following policymakers for their interest in participating in the caucus:
Senator Lakesia Collins
Senator Mike Simmons
Representative Lilian Jimenez
Representative Margaret Croke
Representative Lindsey LaPointe

Representative 

Hoan Huynh

Representative Kimberly Du Buclet
Alderman Jason Ervin
Alderman Lamont J. Robinson
Alderman Scott Waguespack
Alderwomen Leni Manaa-Hoppenworth
Alderwomen Jessie Fuentes
Alderman Bennett Lawson
Alderman Matt Martin
Alderman Desmon Yancy
Alderman Matt O'Shea
Alderman Andre Vasquez
Alderman Walter Burnett Jr.
Alderman Derrick Curtis
Alderman Gilbert Villegas
Alderman William Conway
Alderwoman Angela Clay
BACP Commissioner Kenneth Meyer
We look forward to working with these policymakers to revitalize neighborhood business districts and support local businesses.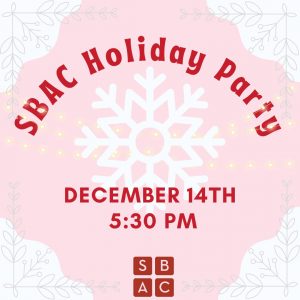 The Small Business Advocacy Council invites you to celebrate the holidays at the George Street Pub on December 14th. Join us for this wonderful opportunity to connect with small business owners, professionals, small business advocates and our SBAC Board of Advisors. Registration is free for SBAC Business Supporters or $10pp for guests.  Event includes light appetizers and…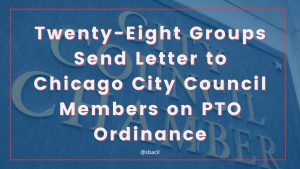 City Council has passed a PTO ordinance that provides greatly expanded paid and sick leave for Chicago employees. The ordinance, however, subjects small businesses to crushing penalties and lawsuits. Many small businesses will also be unable to comply with the mandates of the ordinance by the end of the year. This is an open letter…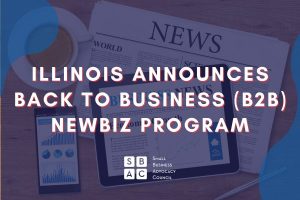 Illinois Launches Back to Business (B2B) NewBiz Program The application window for the B2B NewBiz program opens on November 30, 2023, and will remain open until January 11, 2024. The Small Business Advocacy Council has advocated for a program that provides grant funding to businesses that launched in 2020 (prior to the pandemic) and in…