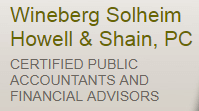 Wineberg Solheim Howell & Shain PC offers accounting and consultation services to its clients. The Company provides services including tax, accounting, family office, personal finance, business consulting, and electric filing services. Wineberg Solheim Howell & Shain provides consultation services in areas including debt, finance, pension plans, cash flow, and investment.
Wineberg Solheim Howell & Shain believe in the value of relationships. The Company views every client relationship like a partnership and truly believe that our success is a result of your success.
The firm is committed to providing close, personal attention to our clients. By taking pride in giving you the assurance that the personal assistance you receive comes from years of advanced training, technical experience, and financial acumen. Our continual investment of time and resources in professional continuing education, state-of-the-art computer technology, and extensive business relationships is indicative of our commitment to excellence.