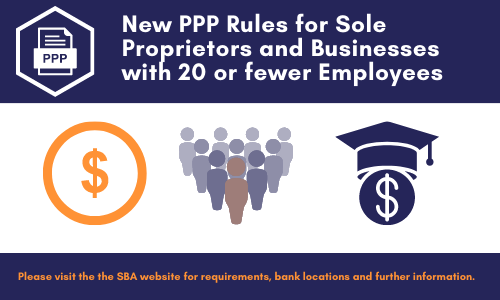 New PPP Rules for Sole Proprietors and Businesses with 20 or fewer Employees
From February 24th to March 9th, the Small Business Administration will accept applications for PPP loans for sole proprietors and businesses with fewer than 20 employees.
The move is meant to make it easier for businesses with few or no employees - sole proprietors, independent contractors, and self-employed people such as house cleaners and personal care providers - to apply that previously could not qualify due to business cost deductions.
In addition to the 2-week application period: 
$1 Billion will be set aside for low to moderate income areas, where businesses are mostly owned by women and people of color.
Legal residents who are non citizens will not be excluded from the program.
Will eliminate exclusions that prohibit a business owner who is delinquent on their student loans from applying to the program.
Please visit the SBA website for requirements, bank locations and further information.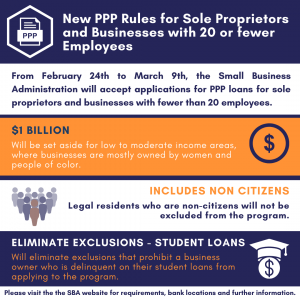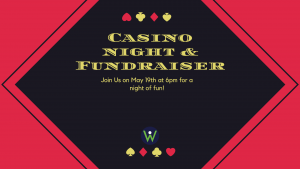 DONATE What an Incredible Night! Friday, May 19th, 2023 marks SBAC Empower's First EVER fundraiser. And boy was it a resounding success! We had an incredible turnout, and we are appreciative of all who came and joined us that evening! The staff here at Empower (as well as our sister organization, the SBAC) all were…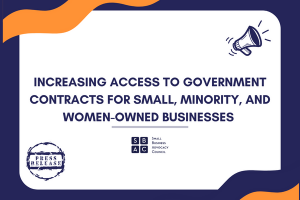 Read S.B. 2192 SB 2192 FACT SHEET Increasing Access to Government Contracts for Small, Minority, and Women-Owned Businesses SB 2192 View the Press Release on SB 2192 The SBAC is excited to announce legislation that will increase access to government contracts for small, minority, and women-owned businesses has passed both the Illinois House and Senate!…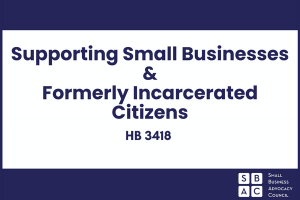 HB 3418 FACT SHEET HB 3418 Hoja de Hechos Read H.B. 3418 Labor shortage requires unconventional hiring… Expand JPMorgan says labor shortage requires unconventional hiring, including people with criminal records PUBLISHED THU, MAR 10 20224:53 PM EST How hiring individuals with criminal records can benefit workforce… Expand How hiring individuals with criminal records can benefit…