Chamber Relief Grant Program
Local chambers of commerce support small businesses and local communities. Losses in membership and fundraising opportunities since the onset of the pandemic have caused many chambers of commerce to be financially impaired. With the virus causing further disruptions, many chambers continue to struggle, and some may not make it through the pandemic.
The SBAC is aware of these issues small chambers of commerce across Illinois are facing. So much so that the SBAC and the Illinois Association of Chamber of Commerce Executives (IACCE) hosted a joint call with Senate President Don Harmon and local chamber of commerce executives to address the scope of needs their small business members face. You can view that call in its entirety below.
Some chambers of commerce received Business Interruption Grants, but many did not. Moreover, while Back to Business grants may be available to chambers, these organizations do not wish to compete against their own members for funding.
The SBAC is advocating for the use of ARPA funds to provide grants for local chambers of commerce. Of the remaining ARPA funds received by the State of Illinois, grants will be provided to local and regional chambers of commerce to help them recover from the pandemic. Eligible chambers will receive grants in an amount equivalent to 2 months of lost revenue, or 1/6th of their annual lost revenue, for their losses between 2019 and 2020. Chambers must also have less than 1500 paid members to be eligible.
The program does not have a monetary limit because the funds will not likely be remarkably significant given that there is a finite number of chambers in the state.

SUPPORT NEIGHBORHOOD BUSINESS DISTRICTS BY REDUCING COMMERCIAL VACANCIES Struggling neighborhood business districts are often plagued by vacant properties. These commercial vacancies impact local economies, foster criminal activity and devastate communities. Local governments can reduce the property taxes owed by commercial property owners when their properties, or a portion of those properties, are vacant. While most…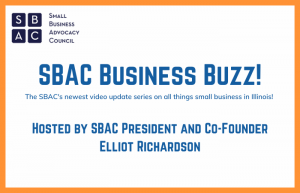 SBAC Business Buzz – January 2022 Welcome to the inaugural episode of our new video series, SBAC Business Buzz, featuring Elliot Richardson's update on SBAC initiatives impacting the Illinois small business community. Today's 3-minute recap focuses on Back to Business Grants, Workforce, Occupational SPONSORS Fifth Third Bank Saul Ewing Arnstein Lehr Inland Bank Ntiva Daily…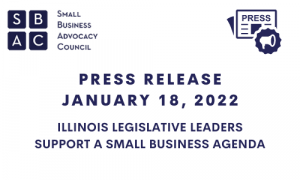 JANUARY 18, 2022 FOR IMMEDIATE RELEASE Media Contact: Patti Zikmund // 773-459-3301 // patti@sbacil.org The Small Business Advocacy Council (SBAC), and a coalition of 50 state-wide business organizations, is working with Illinois political leadership on multiple pieces of legislation supporting small business for the upcoming General Assembly. The legislation will foster the recovery of small businesses,…