Funding For Local Chambers of Commerce
Local chambers of commerce which support small businesses and local communities throughout Illinois have been devastated by the pandemic. Lost memberships and the inability to host fundraisers have deeply impacted chambers of commerce. With the Delta variant causing further disruptions, many chambers continue to struggle, and some may not make it through the pandemic.
The SBAC is aware of these issues small chambers of commerce across Illinois are facing. So much so that the SBAC and the Illinois Association of Chamber of Commerce Executives (IACCE) hosted a joint call with Senate President Don Harmon and local chamber of commerce executives to address the scope of needs their small business members face. You can view that call in its entirety below.
Some chambers of commerce received Business Interruption Grants, but many did not. Moreover, while Back to Business grants may be available to chambers, these organizations do not wish to compete against their own members for funding. We are advocating for the use of ARPA funds to provide grants for local chambers of commerce with less than 1500 members. These grants should be awarded to chambers which can demonstrate a $5000 or greater loss of gross revenue from 2019 to 2020. The grants should equal two months of that lost revenue.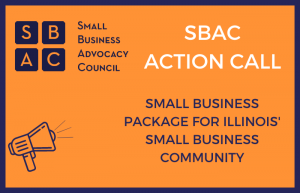 SBAC Action Call: Time For Policymakers To Deliver a Small Business Package Many small and local businesses closed during the pandemic while others continue fighting to keep their doors open. The small business community has galvanized around a package of policy proposals. These policies will provide crucial support to small businesses and local communities. They…

Click Here to take the Community Survey! Revitalize Local Businesses and Neighborhoods Thriving commercial corridors support local communities across Chicago and Cook County. Prior to the pandemic, however, many corridors struggled. As Chicago emerges from the pandemic and local communities confront a new economic landscape, a strong coalition of stakeholders is needed to advocate for…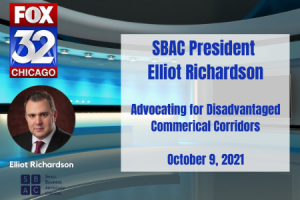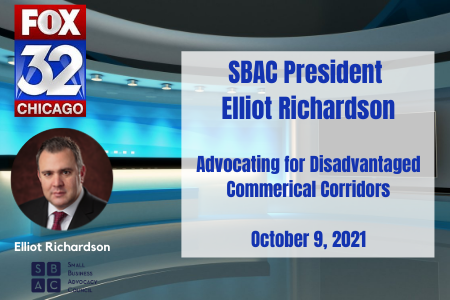 SBAC President Elliot Richardson discusses a policy that will reduce vacant properties in struggling neighborhood business districts. Replacing commercial vacancies with small businesses will support local communities. Supporters Fifth Third Bank Saul Ewing Arnstein Lehr Inland Bank Ntiva Daily Herald Tandem HR Interprenet Signature Bank Lexitas Empower Korey Richardson Open One Solutions Freeborn and Peters…