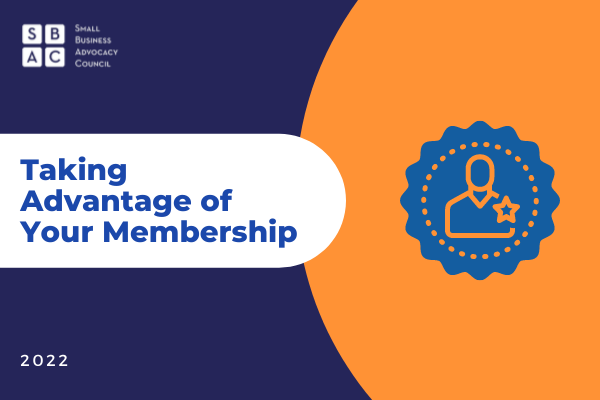 The SBAC is a member-driven organization, and we want to make sure you are getting the most out of your membership with us.
There are many ways for you to get involved and maximize your membership investment. Some benefits you may already know about such as our networking calls or policy committee, but others may be new to you. We're here to help you learn the ins and outs of our organization and how we can best help you.
Take a look at our member benefits chart below to discover what's available to you at your membership level:
Our Member Portal is the best place to find information on current SBAC advocacy initiatives, events, member-to-member deals, and more 24/7.
Please take a look at the tutorial below to learn how to best utilize the Info Hub:
Our SBAC Member Directory, which is available on both the Info Hub and main website, includes listings from all of our SBAC Business Supporters, Promoters, stakeholders, and sponsors. Take a moment to update your listing and get in touch with fellow SBAC members!
The Info Hub is also available through the SBAC MemberPlus App for on-the-go convenience!
If you have any questions regarding your membership or how to utilize your benefits, please reach out to an SBAC staff member at any time!
Located in Chicagoland and popping 15,000 pounds of handmade, ultra-premium popcorn every day, Double Good is a community of like-minded dreamers, doers, believers, and thinkers committed to helping kids do what they love. Double Good is an e-commerce company that produces and sells small-batch popcorn, popped fresh every day in a facility just outside the…
Fifth Third Bancorp is a diversified financial services company headquartered in Cincinnati, Ohio, and the indirect parent company of Fifth Third Bank, National Association, a federally chartered institution. As of Mar. 31, 2021, Fifth Third had $207 billion in assets and operated 1,098 full-service banking centers and 2,383 ATMs with Fifth Third branding in Ohio,…
Founded in 1983, Freeborn is a leading midsize law firm with offices in Chicago, Illinois; New York, New York; Richmond, Virginia; Springfield, Illinois; and Tampa, Florida. Our deep bench of more than 90 experienced trial lawyers handle all areas of complex disputes and litigation, nationally and internationally.