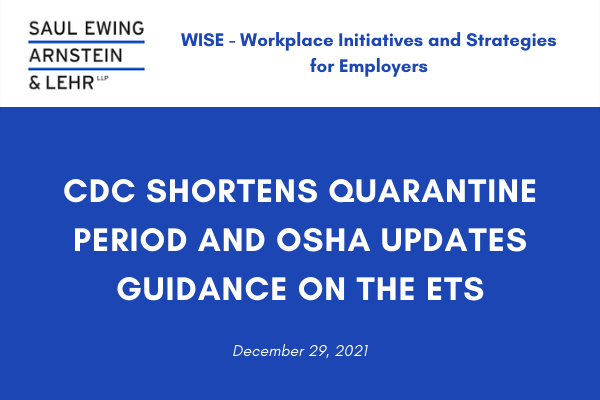 The last two weeks have provided a rollercoaster ride for employers as they grapple with the resurrection of the Occupational Safety and Health Administration's (OSHA's) Emergency Temporary Standard ("ETS") by the Sixth Circuit Court of Appeals, updated guidance from OSHA on the testing protocols under the ETS and new CDC guidance shortening quarantine periods.
Employers should be cognizant of how OSHA's recent ETS guidance and the CDC's newly revised quarantine and isolation recommendations affect operations.
This post was originally published on www.saul.com.

Saul Ewing Arnstein & Lehr LLP is a full-service law firm that offers clients the national reach and sophisticated experience of a large firm and the local connections and value of a boutique firm. This combination of reach and local autonomy supports our clients with the clout of a mega-firm and the service hallmarks of…
SBAC Empower rebuilds economically challenged communities by supporting the establishment of new businesses that create employment opportunities, destination branding, and goodwill across Chicago's business community.
Signature Bank was founded in 2006 for one reason: We knew there was a better way to help mid-sized businesses grow, thrive, and succeed-on both a business level and a personal level. As a mid-sized business owner, you don't have time to worry about every financial detail to keep your business running smoothly. That's what…