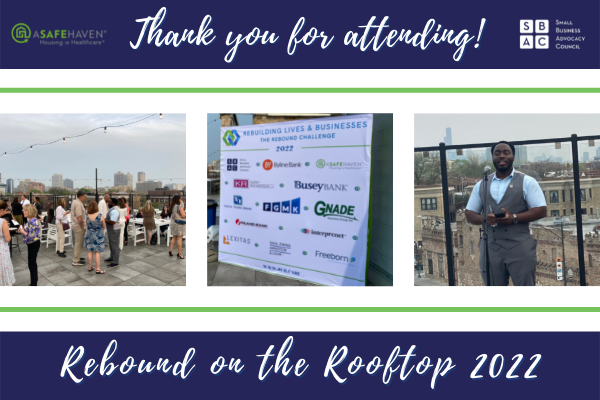 THANK YOU for attending our Rebound on the Rooftop on May 11, 2022!!
It was such a beautiful evening, the weather was PERFECT, and we are so glad we got to see so many of you in person again! If you weren't able to make it, we missed you! And we hope we'll see you soon at another event!
And thank you to A Safe Haven for their partnership and for their amazing catering services!
In the meantime, check out the photos HERE or--->>>>
ENJOY!!
Count on us for the highest quality work uniforms and floor mats that elevate your brand, make your employees look great, maintains compliance, and ensures safety.
Saul Ewing Arnstein & Lehr LLP is a full-service law firm that offers clients the national reach and sophisticated experience of a large firm and the local connections and value of a boutique firm. This combination of reach and local autonomy supports our clients with the clout of a mega-firm and the service hallmarks of…
SBAC Empower rebuilds economically challenged communities by supporting the establishment of new businesses that create employment opportunities, destination branding, and goodwill across Chicago's business community.