Occupational Licensing Reform
Occupational licenses are issued to protect the public's health, safety and welfare. The number of required licenses in Illinois has grown from a handful in the 1950's to over 430 today.
Policymakers across the political spectrum are challenging states to examine occupational licensing and its impact on reducing competition, increasing costs, excluding individuals from occupations, and harming local economies. Occupational licensing reform expands economic opportunity without sacrificing public safety.
The four main components included in the SBAC's proposed solutions for Illinois' burdensome professional regulatory process are outlined below. Furthermore, these items are included in the SBAC's Small Business Package that attempts to provide solutions for common problems Illinois small businesses owners face.
Guarding Against Unnecessary and Burdensome Licenses
Requiring business owners, entrepreneurs, and employees to obtain unnecessary and overly restrictive licenses hurts the Illinois economy. It also holds people back from achieving success. We are advocating for House Bill 4012, which will direct the Illinois Department of Financial and Professional Regulation (IDFPR) to evaluate a newly proposed license and issue a recommendation to state legislators. This recommendation can educate and inform legislators about a proposed license before they take a vote on its enactment.
Eliminating Unnecessary and Burdensome Licenses
It is imperative that policymakers identify and phase out unnecessary and burdensome occupational licenses that hurt individuals, businesses, and our economy. We recommend legislation which will create a licensing committee in both the Illinois Senate and House. This committee will be tasked with analyzing whether existing licenses up for renewal are necessary and if so, whether the goals of the license can be accomplished through less restrictive and burdensome requirements. The committee will then make recommendations for all legislators to consider before they vote to extend a particular license.
Growing Illinois' Workforce and Tax Base
Illinois can expand its workforce and tax base by honoring occupational licenses from other states. Illinois should pass legislation similar to Arizona's Universal Occupational Licensing Recognition Bill, which recognizes out-of-state licenses provided certain criteria are met. We propose legislation which will recognize out-of-state licenses if:
the licensee is currently licensed in another state and has been for at least one year.
the licensee passed the minimum educational requirements or examinations necessary to obtain the license in the other state and has not had their license revoked.
the licensee meets all necessary requirements to protect the health, safety and welfare of Illinois residents.
Reduce Recidivism and Grow the Workforce
Legislation should be passed which establishes a task force comprised of bipartisan legislators, IDFPR representatives, consumer advocates, academics, and criminal justice advocates to review whether it is necessary to uniformly exclude individuals with prior felony convictions from obtaining licenses in certain occupations.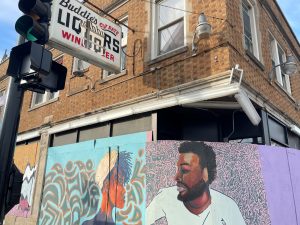 "A strong pandemic economic recovery includes recognizing that some communities have long been denied their fair share of resources," said Governor JB Pritzker. The Illinois Department of Commerce and Economic Opportunity has announced on Monday, January 10th that $8.4 million in new additional grants will be available to small businesses and commercial corridors. This is…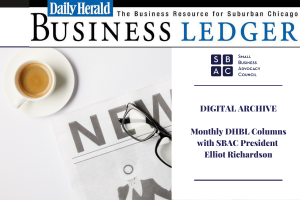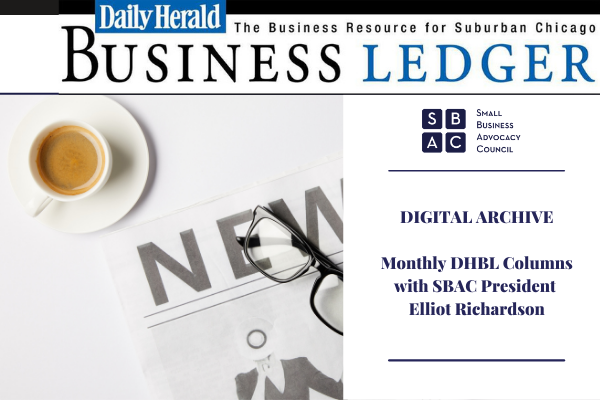 Check out all of SBAC President Elliot Richardson's Daily Herald Business Ledger articles below 2022 2021 2020 2022 January 9, 2022 Will politicians answer the call of the small business community? 2021 December 16, 2021 Politicians must focus on reducing property taxes in 2022 November 8, 2021 Policymakers should adopt an economic strategy focused on…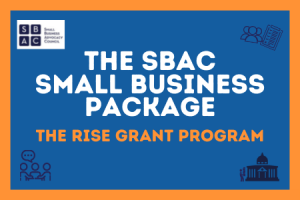 The RISE Grant Program As we approach year 3 of the pandemic, small businesses across Illinois still are facing hardship on a myriad of fronts. From learning to operate in the post-pandemic environment of evolving health mandates, and learning how to best serve an undiscovered niche of customers, one thing is abundantly clear – small…